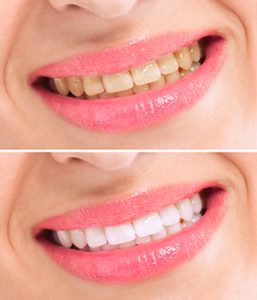 Get Yours Today!
Teeth whitening is a simple and safe way to dramatically improve the appearance of your smile. You're probably familiar with over-the-counter products such as strips, toothpastes, or rinses. Well, these products may lighten your teeth over time with extended use, but they can never achieve the instant results as provided by a dentist and administered in a professional setting. This gives us the means to whiten your teeth significantly in just one visit, or to create custom trays for improved at-home results.
If you are among the majority who wish for whiter teeth and a brighter smile, consider our one-visit whitening. If you are having old discolored fillings or crowns replaced, you may want to have your teeth whitened first so that those new fillings and crowns will match your new tooth color.
And with the entire process taking barely over one hour, it can be a convenient option for almost anyone. Call today and ask us about one-visit tooth whitening, or custom at-home whitening trays!