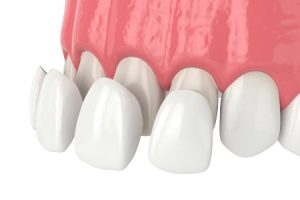 Porcelain veneers are one of the premier cosmetic dentistry treatments used by movie stars, beauty queens, and politicians for many years. Now, more and more, everyday people are choosing them as well. When your teeth's appearance is less than ideal, veneers can hide imperfections and completely transform your look. And not just teeth, getting porcelain veneers can help people to smile more, provide a boost of self-confidence, and actually help you feel better too!
How Do Porcelain Veneers Work?
Veneers are thin pieces of porcelain ceramic that we affix to the surface of your teeth. After an initial consultation, the process takes a couple of appointments. First, we get teeth ready by removing a small portion of the enamel. This preparation allows us space to work with so that teeth can accept the veneer. Next, we take an impression of your teeth so to create a model, ensuring everything fits appropriately.
Then, by your next appointment, the veneers will have been created out of beautiful porcelain ceramic. They are bonded into place using dental cement, and your newly created smile is ready to be seen by the world!
What Can Porcelain Veneers Fix?
Crooked Teeth
Teeth that are misaligned, overlapped, or have gaps are no challenge for porcelain veneers. It doesn't matter how the teeth appear; the veneers will cover them up so that the visible portions are straight and perfect.
Discolored Teeth
Since teeth get covered up, stains and discoloration are also quickly addressed with veneers. Nobody will know what's underneath!
Minor Chips, Irregular shape
Veneers can reshape your smile. We can restore their former beauty by concealing minor chips and damage. Or, we can make your teeth a defining feature of your face, creating a prominent, glamorous, and noticeable appearance!
Get A Consultation!
No matter the reason you're considering veneers, it all starts with scheduling a consultation with an expert cosmetic dentist! So choose somebody you can trust and get to know our team by calling (512) 328-0911.