Sinsational Smile® Austin, TX
Affordable in-office teeth whitening with a take-home kit.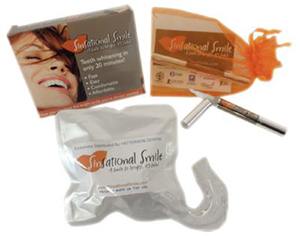 Not only do white teeth enhance your smile, but they make you feel more confident about our appearance. You'll actually look younger and feel better in just 20 minutes! You deserve to have a beautiful and exceptional smile. We can help you achieve a whiter smile and a more confident you, in just 20 minutes.
The first and only green certified whitening system.
Sinsational Smile® uses a fast and effective technology with a patented pre-filled silicone tray. This allows the jaw to remain relaxed and the person comfortable throughout the 20-minute procedure. This procedure includes the use of an LED accelerating light that helps to activate the gel's whitening ingredients at a faster rate, resulting in a brighter smile and whiter teeth in less time.
It's best to have your teeth whitened immediately after your teeth have been professionally cleaned!
Frequently Asked Questions (FAQ)
Patient education is one of our top priorities here at Tracy Dental Excellence. Each of our doctors, hygienists, and assistants will work with you to increase your knowledge about your own dental health. We've found that patients who are active and involved with their own care have better dental' — and overall' — health.