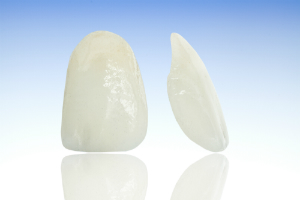 Porcelain Veneers to Enhance Your Teeth
Repair minor imperfections or completely transform your smile!
Porcelain veneers are one of the ways cosmetic dentistry can make your teeth look great! We can use a single veneer to fix minor imperfections, or completely transform your smile with veneers on all your prominent visible teeth. Nobody (but your dentist) knows the shape of teeth underneath. Or their irregularities. Or their stains.
For a consultation on porcelain veneers, contact our office at (512) 328-0911.
How it Works:
Super-thin, natural-looking porcelain veneers are a proven, simple route to a satisfying smile. Gaps between teeth, crooked or uneven teeth, teeth stained by tetracycline exposure, or too much tea or cola, cracked teeth, or teeth chipped by a fall. You name it, we can likely fix it with a custom-made veneer.
Today's modern veneers are lightweight, and they look & feel like natural teeth. And, since they conserve more of your natural tooth when compared to a dental crown, in many cases they are the best choice for treatment of problem high-visibility teeth.
The hard work is done in the lab. All you do is make two appointments. During the first visit, a very thin layer of enamel is removed from the targeted teeth and an impression is taken of your mouth. With this, the lab crafts your veneers. On the second visit, they are bonded into place.
The result: The smile you've always wanted!