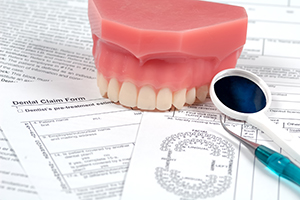 Get to Know Your Insurance Plan!
And call us if you have any questions.
Dental insurance comes in many varieties, so every patient should examine their contract, read all the terms carefully, and see how it shapes up! If you have any questions, please don't hesitate to call our office at (512) 328-0911.
What to Know About Dental Insurance
Dental insurance differs from regular health insurance on a very basic level. Whereas medical mostly covers the treatment after illness or injury has occurred, dental insurance places an emphasis on prevention. Almost all dental plans cover regular visits to keep your teeth healthy and catch the small problems before they become big ones. That's the best characteristic of dental insurance. However…
Insurance companies are businesses, here to make a profit. So, we appreciate your understanding if there is any holdup as we process your claim. Remember that we're on your team, and we always do our best to work within your plan and maximize your benefits.
Most policies opt to pay for the least costly procedures, regardless of the dentist's best recommendation. And there's no insurance plan that covers all aspects of dentistry, so it's important to balance your needs when choosing a plan. You must closely look at what's covered and what's not.
Find out what options your employer may offer. Ask questions, have a conversation. It's possible (believe it or not) to change the personnel director's mind about dental insurance.
Glossary of Dental Insurance Terms
Benefits – the amount of money an insurance company pays toward dental treatment
Claim – an official request/notification to use a patient's benefits
Copay (short for copayment) – under some plans, a fixed dollar amount that must be paid at the time of treatment
Deductible – under some plans, a dollar amount that must be paid toward treatment, before a patient is eligible to receive benefits
Network – the dentists who have agreed to accept the terms of a specific insurance plan and provide care for those patients
Open Enrollment – a period of time when individuals can sign up or change their insurance plan
PPO Plan (Preferred Provider Organization) – a plan where patients may choose any dentist, but can receive reduced fees and lower out-of-pocket expenses by visiting PPO in-network dentists
Provider – the dentist who provides treatment for the enrolled patient
Waiting Period – after enrollment, the amount of time patients must wait before they are eligible to receive benefits