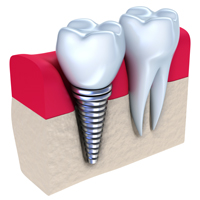 The answer could be "yes!" Many patients, today, from teenagers to active retired people, enjoy the benefits and advantages of dental implants. Whether you're missing just one tooth, several teeth, or all of your teeth, you may be a patient who could benefit from the esthetic and functional enjoyment of dental implants.
Using the latest treatment techniques and materials available, we can surgically implant a space-age material, such as titanium, into your jawbone as an anchor for the replacement tooth or teeth (such as a crown, a bridge, or a complete denture). Implanted teeth function the way your natural teeth use to—sometimes even better!
Having dental implants helps elevate your sense of self-confidence, especially when talking, chewing or just being out in public with people you enjoy. Implants are the most stable, optimal and esthetic way to restore or enhance your smile to its original appearance. They eliminate the necessity to grind down natural teeth, which is required for bridgework. Implants can also eliminate the need for a partial denture. They prevent sores, slipping or clicking noises associated with wearing full dentures.
Are you interested in replacing lost natural teeth with the ultimate in cosmetic dentistry available? Call our office for an appointment today.