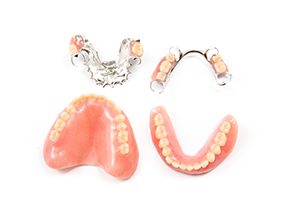 Harrison Ford took a nasty fall and lost two of his teeth. Thanks to modern dentistry, he went on to become a major Hollywood star. For as long as we humans have been losing teeth, we've been filling the gaps. Early dentures were made from ivory, bone, silver, gold, agate, mother-of-pearl and teeth removed from cadavers. These were held in place with steel springs and silk thread. Only the wealthiest could afford them, and they didn't hold up well. Worse, they often hurt. People would remove them before eating.
Just over 200 years ago, the age of modern dentures began…with porcelain teeth. The first was held in place by a steel pin. When vulcanized rubber came along, it was used to hold the new durable dentures in place comfortably and inexpensively. Today we have light-weight acrylic resins, and replacements are often created from a combination of metal, porcelain, resin, ceramic and plastic. Depending on the extent of the loss and the health of the remaining teeth, your replacement options might include…
dental implants that use titanium anchors to hold replacement teeth in your gums;
dental bridges that connect your new teeth to healthy old ones—great when just a few teeth are missing; or
removable dentures, partial or full. Removable partial dentures may involve fitting the artificial gum of the denture with clasps that fit around your remaining teeth for a more natural look and feel.
Missing Teeth?—Customized Dentures
If you're a denture wearer who's grown impatient and uncomfortable with their fit and feel (or are considering dental implants) then it's likely you'll appreciate our innovative method of denture construction. This new approach to tooth replacement is especially effective with patients who have worn dentures and are now experiencing painful, receding gums. It begins with a special treatment denture, featuring a soft-liner between denture and gums, which gently molds to the shape of your mouth and helps restore gum tissue to health. And it can be changed as needed to further customize fit and function.
You'll find this service valuable if you're considering implants. When implants anchor replacement teeth, it's vitally important that tooth position and the correct bite are determined before implants are placed.
If you seek the very best in personalized denture treatment, please call our office to arrange a consultation.