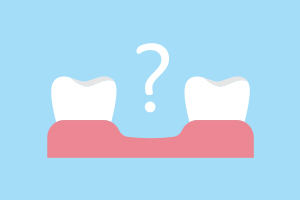 Modern Dentistry Can Replace Missing Teeth
When you have one or more missing teeth, you may experience difficulty eating, chewing, or even speaking properly. And (if you're missing one of the front teeth), it can detract from your appearance as well, affecting your confidence and self-esteem! Instead, choose one of the options made available by modern dentistry.
What Are My Options?
Dental Bridge – A dental bridge is one of the most common options to replace a single missing tooth. And, the method has proven effective time and again. First, we fit crowns that cover the two adjacent teeth (surrounding the gap) in a way that will hold a replacement tooth in position. After the fabrication is complete, we then bond the entire restoration into place.
Partial Dentures – For one or several missing teeth, we can create a partial denture that seamlessly complements the surrounding natural teeth. With a wire framework mouthpiece that functions much like an orthodontic retainer, the replacement teeth are securely held in place.
Complete Dentures – Dentures are the replacement option when all or most of the natural teeth are missing or failing. After a careful fitting to ensure stability and comfort, dentures provide an effective replacement for the entire arch of teeth.
Dental Implants – Dental implants are the strongest, most permanent solution to missing teeth. By anchoring a biocompatible titanium screw securely into the jawbone, the implant functions as an artificial root. An implant can support an individual crown when needed for a single-tooth restoration, or multiple implants used to support a bridge, partial, or full set of dentures.
Whatever treatment option you desire, the first step is scheduling a consultation and then receiving a professional evaluation. Contact us today by calling (512) 328-0911.