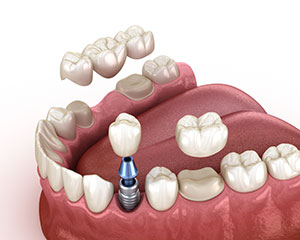 Dental Implants in West Lake Hills, TX
We can use implants to anchor crowns, bridges, or dentures.
Dental implants are the strongest treatment method available to replace missing teeth, and typically it is a two-step process. First, we use a medical grade titanium implant as a replacement root. Then, we use the implants to anchor restorations like crowns, bridges, or dentures. The results? Patients who receive implants can expect greatly improved chewing ability, as well as the aesthetic benefits of a restored smile!
Where to begin:
Only an examination with a dentist can determine if implants are right for you (and we may need an updated set of X-rays to verify bone density). So, contact our office at (512) 328-0911 to schedule a consultation. We'll discuss your treatment options, and be happy to answer any questions you have about the implant process!
Benefits of Dental Implants include:
Improved strength and eating ability – Dental implants offer increased stability when biting and chewing.
Improved speaking ability – Dentures that slip often cause speech problems such as slurring or mumbling.
Stabilized crowns, bridges, or dentures – Dental implants are versatile enough to support a variety of restorations.
Improved self-esteem – Broken or missing teeth may cause embarrassment when laughing or speaking.
Aesthetic restoration of your smile – With the help of implants, restorations look and feel just like your natural teeth!
When considering implants, it's important to choose a dentist you can trust—one who considers all aspects of a patient's needs and health history. For this, there's no better choice than Westlake Family Dental. We promise to listen to your questions and concerns, and we always make our recommendation based on your best interest!