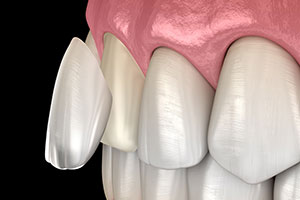 Porcelain Veneers for a Beautiful Smile
Getting a Hollywood smile is an attainable goal for everyone!
With porcelain veneers, correcting smile imperfections has never been easier. If you have been self-conscious about the appearance of your teeth, it's an idea worth considering. A great-looking smile can drastically improve your confidence and quality of life. So if you're looking for cosmetic dentistry, contact Dr. Angela Burns in West Lake Hills, TX. Call (512) 328-0911 to schedule a consultation!
What are porcelain veneers?
Veneers are perhaps the quickest and most exciting way to improve the look of a person's teeth. Using just a small piece of pure porcelain ceramic, we place them on the forward-facing portions of your most visible teeth. Typically, this includes the first 4 to 6 teeth of your top row.
What can veneers fix?
Porcelain veneers are a viable solution to treat several cosmetic problems. Although these issues may not be affecting your oral health, they can take a significant toll on your appearance. With this simple aesthetic solution, we can address tooth stains, minor chips, misalignment, and even close gaps between teeth.
How do I get them?
Veneers typically take three total appointments. The first one is a consultation to talk about your needs and access your oral health. While you're here, we'll discuss cosmetic goals regarding your teeth, which options are right for you, and plan your course of treatment. At the following appointment, we'll remove a thin layer of your tooth enamel to make room for the veneer. This process also scores the tooth surface to help the bonding process. We then take an impression of your prepared teeth.
Finally, at the last appointment, we take your newly created veneers and bond them into place. Then you can begin enjoying and showing off your brand new, beautiful smile! Take the first step today by scheduling a consultation.