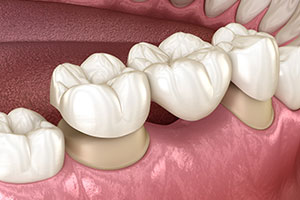 Dental Bridge Treatment in West Lake Hills, TX
Beautiful restorations for damaged, decayed, or missing teeth.
A dental bridge is a replacement for one or more missing or severely decayed teeth. Sometimes also called a fixed partial, a bridge is an affordable option that also provides excellent strength and durability. Typically, a bridge consists of replacement teeth anchored with porcelain crowns on either side (called abutment teeth).
After you've received a bridge, it's essential to take extra care when brushing to keep food debris and plaque from accumulating. Also, since the bridge is a single fixed piece, we recommend floss threaders to clean between teeth. You may also want to consider using a water flosser for improved oral hygiene.
With proper at-home care and regular checkups, there's no reason your dental bridge can't last ten years or more! Call us at (512) 328-0911 to schedule a consultation, and we'll be happy to discuss your treatment options for missing teeth.
Benefits of Dental Bridges
Replace missing teeth – Bridges have proven to be an effective method for replacing one or more missing teeth
Or, fix large cavities and tooth decay – For problem areas, a dental bridge may be the best option for improving oral health
Improved chewing and eating ability – Restores the chewing ability of teeth in the affected area
Blends with the natural appearance of your smile – We match the shade of your surrounding teeth!
Increased confidence and self-esteem – Avoid embarrassment and other limitations that come with missing teeth.